SHOW YOUR SUPPORT FOR OUR NATION'S HEROES
AT GLOBAL PET EXPO
Meet Veterans and Their Service Dogs at VetDogs Licensee Booths
Orlando, FL (March, 2014) – America's VetDogs® (www.VetDogs.org), the premier not-for-profit organization that provides specially trained guide and service dogs to disabled veterans is excited to participate in this year's Global Pet Expo. By joining licensee partners Bil-Jac® (booth #1067 – America's VetDogs® Dog Treats), Ethical Products (booth #2335 – America's VetDogs® toys and beds) and Petking, Inc. (booth #3701 – America's VetDogs® rawhide, biscuits and jerky), VetDogs expects to generate awareness for the various dog products that helps support the training and placement of guide and service dogs to disabled veterans of all eras – at no charge to them.
"We are pleased to have a presence at this year's show with our three dedicated partners who believe and support our mission of helping those who have served our country live with dignity and independence," said Wells B. Jones, CEO of America's VetDogs.
"These partnerships and products offer an incredible opportunity to further our collective commitment to offer quality products while simultaneously supporting the men and women who have sacrificed so much for our country," says Michelle Alfandari, president of MODA Licensing, the licensing agency for America's VetDogs.
In addition to showing support for America's disabled veterans, the program also highlights the vital bond between people and their animals – whether they are assistance dogs or pets – and creates brand loyalty for new and existing customers.
America's VetDogs products are manufactured to the highest standards of quality, and they are distributed at a variety of major retail pet specialty and retail chains, as well as independent pet specialty stores. To find a list of stores near you, visit www.VetDogs.com.
VetDogs graduates and their assistance dogs will be the honored guests at partner booths throughout the show. We invite you to come meet them and learn how their service dogs have changed their lives.
About America's VetDogs® – the Veteran's K-9 Corps®
America's VetDogs provides guide and service dogs to disabled veterans and active duty personnel; physical and occupational therapy dogs for VA and military hospitals; and combat stress control dogs to be deployed overseas. It costs over $50,000 to breed, train and place one assistance dog with a veteran, but there is never a cost to the veteran. To learn more about America's VetDogs, visit www.VetDogs.org. To learn about VetDogs licensed products visit www.VetDogs.com
For information on VetDogs licensing opportunities, please contact Michelle Alfandari at: michelle@modalicensing.com
To learn more about VetDogs licensing partners, visit:
Bil-Jac: www.bil-jac.com
Ethical Products, Inc.: www.ethicalpet.com
Petking, Inc.: http://www.babyking.com/petking_index.php
Licensing Contact:
Michelle Alfandari
212-687-7640 x214
michelle@modalicensing.com
Media Contact:
Andrew Rubenstein
Director of Marketing
631-930-9091
Andrew@VetDogs.org
---
Risk and Reward in Licensing
By Michelle Alfandari
"Great companies don't offer us something to buy. Great Companies offer us something to buy into." Simon Sinek, Start with Why. 
I love that quote and it applies equally to great brands that have to convey a real and genuine reason for being. 
I recently had the great pleasure of sitting down with 2 veterans of brand licensing and we marveled over the changes in the "licensing" industry.  The good ole' days always seem better in hindsight but in fact we had a lot of fun back then as we reminisced about establishing a new industry 25 to 35 years ago.  We took intangible assets, trademarks and brands and leveraged them to new businesses that generated awareness, incremental revenue, stakeholder value, opened new channels of distribution and geographies.  We did it with vision and passion, we took risks and we convinced brand owners to take risks with their valuable intellectual property and retailers to give them shelf space.  What we did was unprecedented, there was no road map; and many of those early forays are established licensed brands today living seamlessly alongside their core businesses. 
Fast forward to today and things have changed. Licensing is now an established model for growing businesses and value from IP and yet some very sound ideas and concepts fall by the wayside because of risk aversion.  Risk aversion started before 2008 but it sure became entrenched after that.  There are exceptions with some brilliant brand extensions that got started during the economic downturn but there are so many more that could have been contenders if only given a chance. "If the skeptics didn't rule".  Better Homes and Gardens™ may have had a healthy dose of skepticism about ramping up their real estate license at one of the lowest points of the lowest time in real estate.  But they chose instead to believe that their brand could "live' in real estate. Launching a real estate license in 2008 and expanding it in 2010 may have seemed, well, insane at the time, but vision and a healthy dose of longer term thinking won the day.  The license agreement between Realogy and Meredith Corporation (Better Homes and Gardens™ is a registered trademark of Meredith) is a 50 year term, with renewal options for another 50 years years.  Talk about commitment!  Today the Better Homes and Gardens Real Estate franchise network consists of approximately 8300 agents, more than 250 offices in 26 states and Canada.
As Seth Godin wrote in proving the skeptics wrong (http://sethgodin.typepad.com/seths_blog/2013/07/proving-the-skeptics-wrong.html): "I used to have a list, and I kept it in my head, the list of people who rejected, who were skeptical, who stood in the way. What I discovered was that this wasn't the point of the work, and my goal wasn't actually to prove these folks wrong, it was only to do the work that was worth doing. So long ago I stopped keeping track. It's not about the skeptics. It's about the people who care about, support and enable. Instead of working so hard to prove the skeptics wrong, it makes a lot more sense to delight the true believers. They deserve it, after all, and they're the ones that are going to spread the word for you."
Today, brands need to provide a reason to buy that is more than great function, design, flavor, price or quality. Brands that give something to buy into might just be the game changer that brings the energy, 'fun' and rewards of risk back to retail; and have a great chance of resonating and delighting believers who just might be your customers.
I leave you with a twitter posting from Gijs van Wulfen twitter/blog: You Innovate Only if Doing Nothing is a Bigger Risk Quote:  Not all CEO's are fond of innovation. A lot of them in reality wait until not innovating is not an option anymore. Although this is so human, it is also very frustrating when you as an innovative employee wants to move your company forward. I like to quote the CEO of BMW AG, the German luxury car producer, Dr.-Ing. Norbert Reithofer. When asked why BMW started the risky E-car project with the BMWi-3 and i-8 he responded very honest: "Because doing nothing was even a bigger risk" [Autoweek 41-2013].
---
FOR IMMEDIATE RELEASE
Photo Available
January 18, 2014
Booth Number:  3805
CONTACT:    Michelle Alfandari
Joe DiMaggio, LLC
(646) 286-9722
White Coffee and Joe DiMaggio, LLC Entry Launches at Winter Fancy Food:
Joltin' Joe DiMaggio's Record-Breaking Streak Inspires New Line Of Coffee
Long Island City, NY — A licensing arrangement between Joe DiMaggio, LLC and White Coffee Corporation has produced a winning lineup of specialty coffee blends and introduces Joltin' Joe®, a new brand with an authentic American heritage.
Joltin' Joe teams with White Coffee to present three new blends—a Signature Medium Blend, a Signature Decaf and an Espresso—delivering an accessible craft coffee that redefines smooth. An elegant, clean and balanced coffee with a hint of sweetness both approachable and complex, it's made with a relentless focus on the best growers, the best beans, and the highest-quality roasting curves and roasted in small batches by hand to get the best flavor possible.
"We set out to guarantee that Joltin' Joe coffee lives up to its promise," says Jonathan White, Executive Vice President of White Coffee Corporation. "We put 75 years of our experience to work, giving our all to creating Joltin' Joe craft coffee roasts that deliver a new taste experience for consumers."
Joltin' Joe coffee is available in whole bean and ground in 12 oz. bags and single-serve cups compatible with Keurig® machines. The suggested retail price is $8.99 – $10.99, and the products will be available in outlets nationwide.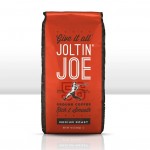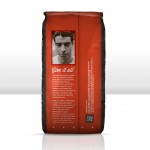 About Joltin' Joe
Joltin' Joe is a new lifestyle brand managed and licensed by Joe DiMaggio, LLC. It draws its inspiration from the American icon Joe DiMaggio, who gave it all at every at-bat. His record-breaking 56-game hitting streak symbolized what a commitment to excellence can accomplish, which is why Joe DiMaggio, LLC has made it their mission to inspire consumers to Give It All every day. They promise to always do the same by making sure everything that bears the Joltin' Joe brand raises the bar with innovative, differentiated, quality products that exceed expectations. Joltin' Joe reminds us that anything is possible, if we are willing to reach for it and Give It All every day.
About White Coffee Corporation
White Coffee Corporation is based in Long Island City, NY and is a third-generation, family-owned coffee importing and roasting business that has been in operation since 1939. As a core part of its coffee offerings, White Coffee is proud to feature the finest licensed brands. These items are available in retail outlets throughout the United States, online at www.whitecoffee.com or by calling (800) 221-0140 for more information.
###
KEURIG is a registered trademark of Keurig, Incorporated.
© Keurig, Incorporated 2014. All Rights Reserved.
© White Coffee Corporation 2014. All Rights Reserved.
All trademarks referenced herein are the properties of their respective owners.
---
Many people will be forced to work well past the traditional retirement age of 65 — to 70 or even longer. Living standards will fall, and poverty rates will rise for the elderly in wealthy countries that built safety nets for seniors after World War II. In developing countries, people's rising expectations will be frustrated if governments can't afford retirement systems to replace the tradition of children caring for aging parents.
The problems are emerging as the generation born after World War II moves into retirement. Read More…
---