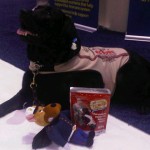 On the Road with MODA: Global Pet Expo – Orlando, FL March 16-18, 2011
I was at the Global Pet Expo in Orlando this past week with our client America's VetDogs® to help launch our new line of VetDogs® Dog Toys by Vo-Toys and continue our support of VetDogs® Dog Treats by Bil-Jac!
We put together a PR plan that attracted much attention having been featured in the Pet Expo Daily as a "Best in Show" brand! We were also covered by local media Fox News for their 5 o'clock Wednesday broadcast and many other planned pieces by pet trade journals and a possible segment on a nationally broadcast morning show…stay tuned!
The reception from retailers was beyond our expectations. We anticipate the America's VetDogs® brand to secure strong placement across multiple channels of retail.
All in all the show proved to be a major success. MODA's belief in the VetDogs® brand as a viable license is taking shape nicely.
Can't wait to report on the next licensee to join the VetDogs® family!
Scott