SHOW YOUR SUPPORT FOR OUR NATION'S HEROES
AT GLOBAL PET EXPO
Meet Veterans and Their Service Dogs at VetDogs Licensee Booths
Orlando, FL (March, 2014) – America's VetDogs® (www.VetDogs.org), the premier not-for-profit organization that provides specially trained guide and service dogs to disabled veterans is excited to participate in this year's Global Pet Expo. By joining licensee partners Bil-Jac® (booth #1067 – America's VetDogs® Dog Treats), Ethical Products (booth #2335 – America's VetDogs® toys and beds) and Petking, Inc. (booth #3701 – America's VetDogs® rawhide, biscuits and jerky), VetDogs expects to generate awareness for the various dog products that helps support the training and placement of guide and service dogs to disabled veterans of all eras – at no charge to them.
"We are pleased to have a presence at this year's show with our three dedicated partners who believe and support our mission of helping those who have served our country live with dignity and independence," said Wells B. Jones, CEO of America's VetDogs.
"These partnerships and products offer an incredible opportunity to further our collective commitment to offer quality products while simultaneously supporting the men and women who have sacrificed so much for our country," says Michelle Alfandari, president of MODA Licensing, the licensing agency for America's VetDogs.
In addition to showing support for America's disabled veterans, the program also highlights the vital bond between people and their animals – whether they are assistance dogs or pets – and creates brand loyalty for new and existing customers.
America's VetDogs products are manufactured to the highest standards of quality, and they are distributed at a variety of major retail pet specialty and retail chains, as well as independent pet specialty stores. To find a list of stores near you, visit www.VetDogs.com.
VetDogs graduates and their assistance dogs will be the honored guests at partner booths throughout the show. We invite you to come meet them and learn how their service dogs have changed their lives.
About America's VetDogs® – the Veteran's K-9 Corps®
America's VetDogs provides guide and service dogs to disabled veterans and active duty personnel; physical and occupational therapy dogs for VA and military hospitals; and combat stress control dogs to be deployed overseas. It costs over $50,000 to breed, train and place one assistance dog with a veteran, but there is never a cost to the veteran. To learn more about America's VetDogs, visit www.VetDogs.org. To learn about VetDogs licensed products visit www.VetDogs.com
For information on VetDogs licensing opportunities, please contact Michelle Alfandari at: michelle@modalicensing.com
To learn more about VetDogs licensing partners, visit:
Bil-Jac: www.bil-jac.com
Ethical Products, Inc.: www.ethicalpet.com
Petking, Inc.: http://www.babyking.com/petking_index.php
Licensing Contact:
Michelle Alfandari
212-687-7640 x214
michelle@modalicensing.com
Media Contact:
Andrew Rubenstein
Director of Marketing
631-930-9091
Andrew@VetDogs.org
---
WSJ.com – Why a 'gap' year isn't just for college kids anymore.
Baby boomers are calling for a timeout.
After decades of raising children and climbing the corporate ladder, they're weary of the same old routine. But they're so caught up in high-pressure jobs that they don't have the time and energy to figure out what to do next. (Read more …)
---
LICENSING UNIVERSITY – LICENSING INTERNATION AL EXPO
June 14 – 16, 2011 Mandalay Bay Convention Center, Las Vegas
Hear it from the Expert! Michelle Alfandari, President/CEO of MODA Licensing, Inc. will be a featured panelist in the following seminar:
"Working with Licensing Agents and Consultants"
Tuesday, June 14
10:00am – 11:30am
Licensing agents and consultants can play a central role in the development of an effective licensing program. This seminar will aid participants in defining respective roles; key into the pertinent questions they should be asking if considering an agent or consultant and learn how the best relationships work. Panelists will include executives who work with corporate trademarks, entertainment and character properties, and literary and art properties.
SPEAKER BIOS:
MARTY BROCHSTEIN
Senior VP of Industry Relations and Information, LIMA
Mr. Brochstein joined the LIMA staff in 2008 after 12 years as Executive Editor of The Licensing Letter, a New York-based newsletter that covers the global licensing business. He also was Editorial Director of the parent publishing company, EPM Communications. In addition to writing and editing the twice-monthly newsletter, he also compiled the publication's industry numbers and edited EPM's other licensing-related publications, including International Licensing: A Status Report, and The Licensing Letter's Sports Licensing Report. Brochstein was a business journalist for more than 20 years, primarily covering the consumer products and retail industries. Before joining The Licensing Letter, he spent five years as Senior Editor of Television Digest. He is a graduate of Boston University.
MICHELLE ALFANDARI
President/CEO, MODA Licensing, Inc
Michelle Alfandari is President/CEO of MODA Licensing, Inc. She has over 30 years of business development, licensing, strategic planning, marketing and sales experience.
Ms. Alfandari established MODA Licensing, Inc. (as MODA International Marketing, Inc.) in 1988 and has developed MODA into a globally recognized leader in brand licensing.
MODA Licensing has been in the forefront in recognizing the value of licensing as a business model to build businesses from corporate brands, non-profits, trademarks and technology. MODA has developed and executed licensed businesses globally across diverse industries and retail channels. MODA's innovative methodology has delivered a track record of success for its clients including generating incremental revenue, protection of IP and enhancing core businesses.
Ms. Alfandari is a member of LIMA (Licensing Industry Merchandising Association) and LES (Licensing Executives Society). She has written articles for licensing and trade journals and was a contributor to Licensing for Dummies published by Wiley Publishing, Inc. Ms. Alfandari has been a speaker at licensing conferences including the Licensing International Expo (New York and Las Vegas), CLE (Continuing Law Education) conferences, Luxury Marketing Council and Cause Marketing Forum's annual conference and is considered an authority on brand licensing for corporations and non-profits.
---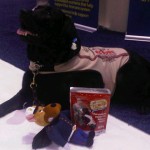 On the Road with MODA: Global Pet Expo – Orlando, FL March 16-18, 2011
I was at the Global Pet Expo in Orlando this past week with our client America's VetDogs® to help launch our new line of VetDogs® Dog Toys by Vo-Toys and continue our support of VetDogs® Dog Treats by Bil-Jac!
We put together a PR plan that attracted much attention having been featured in the Pet Expo Daily as a "Best in Show" brand! We were also covered by local media Fox News for their 5 o'clock Wednesday broadcast and many other planned pieces by pet trade journals and a possible segment on a nationally broadcast morning show…stay tuned!
The reception from retailers was beyond our expectations. We anticipate the America's VetDogs® brand to secure strong placement across multiple channels of retail.
All in all the show proved to be a major success. MODA's belief in the VetDogs® brand as a viable license is taking shape nicely.
Can't wait to report on the next licensee to join the VetDogs® family!
Scott
---
I am here in Nuremberg for the Toy Fair and I am really impressed!! The show is very well organized, so it's relatively easy to make your way around the many halls, which are filled with visitors! The showrooms of the dominant players (e.g. LEGO, Hasbro, Mattel) are packed!
I'm here for MODA's client UNICEF, and there is plenty of interest even from companies that don't normally license. It seems that introducing kids to a "world of play" with the UNICEF brand is a concept that lots of marketers can relate to!
---
MODA Licensing, Inc., represented by Sharon Summer, will be in Germany for the International Toy Fair Nurnberg February 2nd through the 4th on behalf of client UNICEF!
If you are looking for a global children's brand with incredibly high awareness offering an alternative to character and entertainment properties, please contact MODA to schedule an appointment with Sharon and learn more about how UNICEF can benefit your business (212-687-7640 or s.summer@pixelelves.com/moda).
---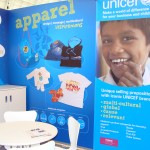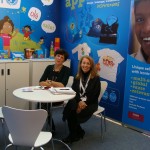 September 28-30, 2010 — London
MODA represented its client UNICEF at Brand Licensing Europe last week. The show was excellent for UNICEF. Potential licensees and retailers confirmed our positioning that UNICEF is a complementary, distinct and relevant brand that adds dimension and value to the current retail offerings for infants and children categories.
We were very pleased with the response of so many manufacturers and retailers who felt strongly about UNICEF and all that it does for children and at the same time understood how to commercialize the 'brand' for a winning proposition for all involved.
Please contact MODA for licensing the UNICEF brand.
---
Interbike in Las Vegas! North America's largest cycling trade show is off to a terrific start with lots of enthusiasm throughout the aisles.
Cycle Force Group has launched its line of Tour de France licensed bicycles, accessories and parts. The line looks awesome and reaction to the line and brand has been terrific.
I am here to look for licensing partners for the Tour in apparel (heritage and casual cycling), endurance supplements, skin care and other relevant product categories.
See the action at the booth, number 1250!
---
Sept 2010: Mexico/Yucatan/Akumal: A visit to the Riviera Maya Beach Villas….This was not a business trip, au contraire, but any travel provides another perspective on consumers and spending. Wearing MODA's hat (and a hat was required at all daylight hours) as licensing agency it was clear that "experience" is trumping product purchases.
One flies to Cancun airport to get to Akumal. Considering the economic times, or perhaps because of it, the airport seemed quite busy during a time that is considered 'off season'. Ages ranged from college age to seniors…and all chose to spend their money on the travel experience.
The town of Akumal, originally a sleepy fishing village known only to scuba divers, now nestled between hotel resorts manages to keep its small town flavor. It also offers a great example of the best mobile and remote working can offer. I had great internet connection throughout my stay.
Despite the media news, I found the locations safe, with much to see and do; interacting with the Mayan people who are deservedly proud of their culinary and cultural heritage and eager to share it with visitors to this region that is now called Riviera Maya.
I have to admit I didn't spend much time in stores (though I did purchase a most amazing handbag from Hacienda Monte Cristo's designer). Instead I did what most others were doing and that was having "experiences" visiting Mayan ruins, snorkeling in caves called Cenotes and tasting local food at different restaurants.
The REAL experience however was the luxurious time spent at the Riviera Maya Beach Villas. Each Villa was meticulously designed and built by Udi Saly to take full advantage of the ocean views; his requisite exquisitely placed lap pools for each villa adds to the seamless integration of indoor and outdoor spaces; a perfect flow from floor to floor including a signature roof space that serves a myriad of functions from pure escape to after dinner drinks and star gazing. Each Villa offers privacy and is executed to a scale that is both generous and intimate.
The villas are decorated by Liz Conover in an elegant style that marries luxury with humor and pragmatism but make no mistake…a perfectionist's attention to detail from colorful silk throws, exquisite use and choice of tiles, marble and wood, unexpected chandeliers setting the stage for a long soak in a Jacuzzi, comfortable furniture to the elegant bed linens and towels.
To get a glimpse of this wonderfully appointed, located, relaxing place and the luxurious time I had at Villa Zen del Mar on private Jade Beach (swimming everyday in a gorgeous lap pool, yoga every morning, one hour massages in the spa palapa adjacent to the pool and delicious nouveau Mexican cuisine prepared each evening) please go to www.AkumalBeachVillas.com.
In addition to "experience" being a consumer driver, another observation during my short stay was meeting a growing international group of innovative, adventurous, creative types investing in real estate and living in places like Akumal, Vallodolid and Merida in the Yucatan.
Observations from this trip: consumers are seeking experiences such as travel and I strongly believe they will also gravitate towards products and retailers that are "experiential"; luxury spending is linked to travel, real estate and home décor. Mobile working is 'working'!
Next On the Road: Interbike in Las Vegas; Brand Licensing Europe – London.
---
Scott Todd of MODA Licensing is heading out to Las Vegas for the Interbike Show on September 22nd to help with the launch of our new line of Tour de France bikes, accessories and parts by Cycle Force (booth # 1037)!
Other Tour de France licensees exhibiting their 2011 product include Headsweats (booth # 1400), Suntech Optics / Ryder (booth # 2859) and DeFeet (booth # 3032).
If you would like to find out more about Tour de France licensing opportunities please contact Scott at (212)-687-7640 or via email at s.todd@pixelelves.com/moda to set up an appointment.
---