Risk and Reward in Licensing
By Michelle Alfandari
"Great companies don't offer us something to buy. Great Companies offer us something to buy into." Simon Sinek, Start with Why. 
I love that quote and it applies equally to great brands that have to convey a real and genuine reason for being. 
I recently had the great pleasure of sitting down with 2 veterans of brand licensing and we marveled over the changes in the "licensing" industry.  The good ole' days always seem better in hindsight but in fact we had a lot of fun back then as we reminisced about establishing a new industry 25 to 35 years ago.  We took intangible assets, trademarks and brands and leveraged them to new businesses that generated awareness, incremental revenue, stakeholder value, opened new channels of distribution and geographies.  We did it with vision and passion, we took risks and we convinced brand owners to take risks with their valuable intellectual property and retailers to give them shelf space.  What we did was unprecedented, there was no road map; and many of those early forays are established licensed brands today living seamlessly alongside their core businesses. 
Fast forward to today and things have changed. Licensing is now an established model for growing businesses and value from IP and yet some very sound ideas and concepts fall by the wayside because of risk aversion.  Risk aversion started before 2008 but it sure became entrenched after that.  There are exceptions with some brilliant brand extensions that got started during the economic downturn but there are so many more that could have been contenders if only given a chance. "If the skeptics didn't rule".  Better Homes and Gardens™ may have had a healthy dose of skepticism about ramping up their real estate license at one of the lowest points of the lowest time in real estate.  But they chose instead to believe that their brand could "live' in real estate. Launching a real estate license in 2008 and expanding it in 2010 may have seemed, well, insane at the time, but vision and a healthy dose of longer term thinking won the day.  The license agreement between Realogy and Meredith Corporation (Better Homes and Gardens™ is a registered trademark of Meredith) is a 50 year term, with renewal options for another 50 years years.  Talk about commitment!  Today the Better Homes and Gardens Real Estate franchise network consists of approximately 8300 agents, more than 250 offices in 26 states and Canada.
As Seth Godin wrote in proving the skeptics wrong (http://sethgodin.typepad.com/seths_blog/2013/07/proving-the-skeptics-wrong.html): "I used to have a list, and I kept it in my head, the list of people who rejected, who were skeptical, who stood in the way. What I discovered was that this wasn't the point of the work, and my goal wasn't actually to prove these folks wrong, it was only to do the work that was worth doing. So long ago I stopped keeping track. It's not about the skeptics. It's about the people who care about, support and enable. Instead of working so hard to prove the skeptics wrong, it makes a lot more sense to delight the true believers. They deserve it, after all, and they're the ones that are going to spread the word for you."
Today, brands need to provide a reason to buy that is more than great function, design, flavor, price or quality. Brands that give something to buy into might just be the game changer that brings the energy, 'fun' and rewards of risk back to retail; and have a great chance of resonating and delighting believers who just might be your customers.
I leave you with a twitter posting from Gijs van Wulfen twitter/blog: You Innovate Only if Doing Nothing is a Bigger Risk Quote:  Not all CEO's are fond of innovation. A lot of them in reality wait until not innovating is not an option anymore. Although this is so human, it is also very frustrating when you as an innovative employee wants to move your company forward. I like to quote the CEO of BMW AG, the German luxury car producer, Dr.-Ing. Norbert Reithofer. When asked why BMW started the risky E-car project with the BMWi-3 and i-8 he responded very honest: "Because doing nothing was even a bigger risk" [Autoweek 41-2013].
---
Many people will be forced to work well past the traditional retirement age of 65 — to 70 or even longer. Living standards will fall, and poverty rates will rise for the elderly in wealthy countries that built safety nets for seniors after World War II. In developing countries, people's rising expectations will be frustrated if governments can't afford retirement systems to replace the tradition of children caring for aging parents.
The problems are emerging as the generation born after World War II moves into retirement. Read More…
---
Bid on unique items to help underwrite the cost of providing assistance dogs to veterans
FOR IMMEDIATE RELEASE – June 1, 2013 — Smithtown, NY – Steiner Sports, a leader in sports marketing and memorabilia has partnered with America's VetDogs – the Veteran's K-9 Corps on the launch of an online auction of sports memorabilia, limited photography and artwork, fine wine along with other items with broad appeal from sports enthusiasts to wine connoisseurs, with all proceeds benefiting America's VetDogs; a 501c3 non-profit and national provider of assistance dogs for those who have served our country.
"We're very excited to partner with America's VetDogs on this significant charity auction," said Brandon Steiner, founder and CEO of Steiner Sports. "This is another way for Steiner and the community to support the heroes who have served and protected our country."
America's VetDogs, an innovative provider of assistance dogs, strives to meet the physical and physiological needs of those who have served our country including veterans of all eras, active military personnel and first responders. The organization offers specially trained dogs to help mitigate disabilities taken on such as the loss of limbs, loss of sight or hearing, mobility impairment, seizure alert and those who are dealing with home front issues and sleep disorders allowing them live again with dignity and independence.
Assistance dogs from America's VetDogs are provided at no cost to the veteran's and includes a lifetime of aftercare. The organization is solely supported by donations from private individuals, corporations, foundations, and other organizations.
"We are delighted to partner with Steiner Sports on this fundraising opportunity," says Wells Jones, CEO of America's VetDogs. "Since the VetDogs founding in 2003, we have placed 100's of assistance dogs with wounded or disabled servicemen and women. This auction provides another great way to build brand awareness for VetDogs, generate much needed revenue, and highlight Steiner's commitment to our nation's heroes."
"We are very pleased to have brought Steiner and America's VetDogs together for such a worthy cause", says Michelle Alfandari, Pres/CEO of MODA Licensing, the agency representing America's VetDogs.
The auction takes place from June 1st to June 30th and will be hosted at www.steinersports.com.
About Steiner Sports
Established in 1987 by founder and CEO Brandon Steiner, Steiner Sports has been a leader in sports memorabilia and sports marketing for over two decades and enjoys working relationships with many of the top athletes in sports today.
About America's VetDogs®– the Veteran's K-9 Corps®
America's VetDogs provides guide and service dogs to disabled veterans and active duty personnel; physical and occupational therapy dogs for VA and military hospitals; and combat stress control dogs to be deployed overseas. It costs over $50,000 to breed, train and place one assistance dog with a veteran, but there is never a cost to the veteran. To learn more about America's VetDogs, visit www.VetDogs.org
About MODA Licensing, Inc.
Building businesses from intellectual property via licensing and strategic partnerships since 1988. www.modalicensing.com
---
VETDOGS® DOG TOYS… on the front cover of Ryan's Pet Supplies mail order catalog!
June 2013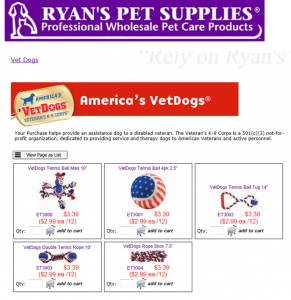 ---
Join the conversation. Contact us at:  info@modalicensing.com
Kerry Hannon's excellent article "Making a Move Abroad, and Working There, Too", The New York Times, May 14, 2013 illustrates the adventure, success and some of the risks of living abroad:   "Simply retiring abroad has become old news, as people seek cheaper places to live and to slash health care costs while enjoying more temperate climes.  But now enjoying a working retirement," ………appears to be gaining traction with expats, as it has in the United States."
NY Times: Working Abroad After Retirement Gains Appeal 
Good references for those exploring adventures abroad: 
ExpatExchange.com  – a  leading Web site on international living
International Living –   a magazine and Web site specializing in retirement abroad.
---
Licensing.biz –Thursday, 3rd February 2011 at 3:32 pm
MODA Swings in for Joe DiMaggio
Newly formed company – Joe DiMaggio LLC – to be responsible for all brand licensing and extensions.
MODA Licensing has formed Joe DiMaggio LLC to handle all brand licensing and extensions of the baseball star worldwide.
There will be several sub brands – including Joltin' Joe DiMaggio and Joe DiMaggio: The Yankee Clipper – plus his signature, which will add further support to the main brand.
The immediate licensing opportunity will be around the 70th anniversary of DiMaggio's 56 game hitting streak for collectibles and apparel.
"MODA's focus will be on creating sustainable branded Joe DiMaggio licensed businesses," explained Michelle Alfandari, president and CEO of MODA Licensing. "We are developing a strategy that will leverage the strongest assets of DiMaggio's legend, fame and celebrity to a select range of consumer products and service. In addition to packaged goods and services, we will leverage DiMaggio's image for advertising, promotion and film."
---
NEWS RELEASE
MODA Licensing Announces Launch of Bushnell Outdoor Performance Footwear
(New York, N.Y. – September 27, 2011) Bushnell, a legendary name in the outdoor industry, is turning a new leaf with a new line of performance footwear. Bushnell has teamed up with BBC International and Trimfoot Company to unleash a line of outdoor performance footwear. The line will be available in select stores across the country beginning November of 2011. The fall line is constructed with the performance driven hunter in mind. Every boot is designed to be lightweight and technically advanced to help hunters overcome any obstacles Mother Nature might throw at them while afield. Each hunting boot features an aggressive outsole without sacrificing the comfort and mobility achieved with a standard athletic shoe.
For spring 2012 expect to see hiking boots and trail shoes alongside the hunting boots to help complete the outdoor adventure. BBC and Trimfoot, two companies with a combined experience of more than 125 years in the shoe industry, have shown their combined abilities in product development and marketplace distribution skills, alongside their passion for the outdoors. Products have been developed with the comfort and performance of the hunter at the forefront. Outdoor footwear designed and produced by outdoor people. Expect the competitive nature of the team to be very visible in this competitively priced outdoor performance footwear program.
Tune in to see Bushnell Footwear on the following programs:
The Wild Outdoors on the Outdoor Channel with Jay and Tammi Gregory
Family Traditions with Haley Heath on the Sportsman Channel
The Canadian Tradition on Global TV and Wild TV with Taylor Wright
Bushnell Footwear will be present at the 2012 Shot Show in Las Vegas, Nev., and 2012 ATA show in Columbus, Ohio.
About Bushnell
Bushnell Outdoor Products is a global manufacturer and marketer of branded consumer products based in Overland Park, Kan. Bushnell Outdoor Products sells its products worldwide under the Bushnell®, Tasco®, Serengeti®, Bollé®, Uncle Mike's Law Enforcement®, Stoney Point®, Hoppe's®, Butler Creek®, Cébé®, Millett®, Uncle Mike's®, Final Approach® and Simmons® brand names. For information about any of these brands or products, please visit www.bushnellperformanceoptics.com or contact Bushnell Public Relations at (913) 752-6105.
About Trimfoot Company
Trimfoot Company is centrally located in Missouri and is approaching their 100th year in the footwear industry. For ordering and more information call 800-325-6116.
About BBC
BBC International was founded 35 years ago and is based in Boca Raton Florida. For more information on BBC International please visit www.bbcint.com
About MODA Licensing, Inc.
A global business development/licensing agency established in 1988, MODA is a leader in using licensing to add value and build businesses from brands, trademarks and technology across diverse industries and retail channels. MODA works as a licensing agency for its clients or in partnership with IP owners. Headquartered in NYC with Global Associates worldwide, MODA offers a full range of services including consulting. Proven methodology has resulted in enduring and profitable brand extensions for clients (Fortune 500, non-profits, sports events, publishing, hospitality, celebrity) and equity partners, delivering incremental revenue, protecting intellectual property and enhancing core business.
BUILDING BUSINESSES FROM B®ANDS www.pixelelves.com/moda
---
LICENSING UNIVERSITY – LICENSING INTERNATION AL EXPO
June 14 – 16, 2011 Mandalay Bay Convention Center, Las Vegas
Hear it from the Expert! Michelle Alfandari, President/CEO of MODA Licensing, Inc. will be a featured panelist in the following seminar:
"Working with Licensing Agents and Consultants"
Tuesday, June 14
10:00am – 11:30am
Licensing agents and consultants can play a central role in the development of an effective licensing program. This seminar will aid participants in defining respective roles; key into the pertinent questions they should be asking if considering an agent or consultant and learn how the best relationships work. Panelists will include executives who work with corporate trademarks, entertainment and character properties, and literary and art properties.
SPEAKER BIOS:
MARTY BROCHSTEIN
Senior VP of Industry Relations and Information, LIMA
Mr. Brochstein joined the LIMA staff in 2008 after 12 years as Executive Editor of The Licensing Letter, a New York-based newsletter that covers the global licensing business. He also was Editorial Director of the parent publishing company, EPM Communications. In addition to writing and editing the twice-monthly newsletter, he also compiled the publication's industry numbers and edited EPM's other licensing-related publications, including International Licensing: A Status Report, and The Licensing Letter's Sports Licensing Report. Brochstein was a business journalist for more than 20 years, primarily covering the consumer products and retail industries. Before joining The Licensing Letter, he spent five years as Senior Editor of Television Digest. He is a graduate of Boston University.
MICHELLE ALFANDARI
President/CEO, MODA Licensing, Inc
Michelle Alfandari is President/CEO of MODA Licensing, Inc. She has over 30 years of business development, licensing, strategic planning, marketing and sales experience.
Ms. Alfandari established MODA Licensing, Inc. (as MODA International Marketing, Inc.) in 1988 and has developed MODA into a globally recognized leader in brand licensing.
MODA Licensing has been in the forefront in recognizing the value of licensing as a business model to build businesses from corporate brands, non-profits, trademarks and technology. MODA has developed and executed licensed businesses globally across diverse industries and retail channels. MODA's innovative methodology has delivered a track record of success for its clients including generating incremental revenue, protection of IP and enhancing core businesses.
Ms. Alfandari is a member of LIMA (Licensing Industry Merchandising Association) and LES (Licensing Executives Society). She has written articles for licensing and trade journals and was a contributor to Licensing for Dummies published by Wiley Publishing, Inc. Ms. Alfandari has been a speaker at licensing conferences including the Licensing International Expo (New York and Las Vegas), CLE (Continuing Law Education) conferences, Luxury Marketing Council and Cause Marketing Forum's annual conference and is considered an authority on brand licensing for corporations and non-profits.
---
Modernist architectural icon immortalised in LEGO® bricks
ENFIELD, Conn. (April 4, 2011) – Bauhaus director and modernist Mies van der Rohe is the latest architect to have his works immortalised in LEGO® bricks as his modernist masterpiece Farnsworth House™ joins the LEGO Architecture collection of building sets that celebrates the past, present and future of architecture through the LEGO brick.
The Farnsworth House, located in Plano, Illinois, just outside Chicago. It was designed and constructed between 1945 and 1951 as a one-room weekend retreat for Dr. Edith Farnsworth, a prominent Chicago medical specialist. Today, the house is a pilgrimage site for architects and designers world-wide, owned and operated by the National Trust for Historic Preservation. The house museum is open to the public.
"We are proud to introduce Mies van der Rohe's Farnsworth House, a new chapter in architectural history for LEGO Architecture," said Paal Smith-Meyer, Head of New Business at the LEGO Group. "Our main job has been to capture the essence of this iconic design with our own celebrated icon, the LEGO Brick, and we hope the model and the story behind the building will be an inspiration to builders around the world"
"The Farnsworth House is one of the most celebrated and iconic symbols of Modern architecture and the National Trust is delighted to partner with the LEGO Group to offer this extraordinary home as part of the LEGO Architecture Series," said Crista Gibbons, Associate Director of Marketing Programs at the National Trust for Historic Preservation.
LEGO Architecture is a collaboration between the LEGO Group and Chicago architect Adam Reed Tucker. It started as a pilot of 200 boxes in 2007. In 2010, international distribution started through LEGO online stores, brand retail stores and in a growing number of outlets around the world.
LEGO Architecture products come in two types: Landmark and Architect. The Landmark series features well-known buildings, while the Architect series focuses on the work of important architects. Mies van der Rohe is the second architect to be featured after Frank Lloyd Wright.
The LEGO Farnsworth House™ is available for purchase in LEGO brand retail stores, LEGOLAND® Stores and online at http://shop.lego.com/ for $59.99 USD. Toy stores, mass retail stores, bookstores, art galleries, museums, hotels, gifts souvenir shops, hobby shops and online will carry the item in June. The set is designed for ages 12 and up and includes a content-rich booklet with facts and history of Farnsworth House™.
###
About the LEGO Group
The LEGO Group is a privately held, family-owned company, based in Billund, Denmark. It was founded in 1932 and today the group is one of the world's leading manufacturers of play materials for children, employing approximately 9,000 people globally. The LEGO Group is committed to the development of children's creative and imaginative abilities. LEGO products can be purchased in more than 130 countries.
About National Trust for Historic Preservation
The National Trust for Historic Preservation www.PreservationNation.org is a non-profit membership organization bringing people together to protect, enhance and enjoy the places that matter to them. By saving the places where great moments from history – and the important moments of everyday life – took place, the National Trust for Historic Preservation helps revitalize neighborhoods and communities, spark economic development and promote environmental sustainability. With headquarters in Washington, DC, eight regional and field offices, 29 historic sites, and partner organizations in 50 states, territories, and the District of Columbia, the National Trust for Historic Preservation provides leadership, education, advocacy and resources to a national network of people, organizations and local communities committed to saving places, connecting us to our history and collectively shaping the future of America's stories.
LEGO and the LEGO logo are trademarks of The LEGO Group. ©2011 The LEGO Group.
---
FOR IMMEDIATE RELEASE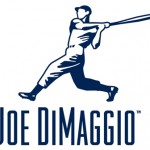 May 15, 2011
After 70 years, DiMaggio's 56-Game Streak Remains Untouchable
Joe DiMaggio Fans to Celebrate the Anniversary of this Remarkable Feat
Hollywood, Fla. (May 15, 2011) – It was 70 years ago that New York Yankee Joe DiMaggio began a legendary hitting streak that obliterated the previous record and has gone unchallenged to this day. In fact, no one has ever come close. To commemorate the anniversary of this historic achievement, Americans young and old are invited to participate in celebrations and remembrances hosted by JoeDiMaggio.com and the official Joe DiMaggio Facebook page.
On May 15, 1941, hoping to shake off a hitting slump, a young DiMaggio stepped up to the plate and got his wish. He hit in that game, and the next, and the next… After 45 games, he broke a hitting record that had stood for 44 years—and he kept on going. The American public, weary from economic depression and impending war, went absolutely wild. They breathlessly followed the Yankee Clipper as he continued the streak for an amazing 12 more games. By the time the streak ended, two months and two days after it began, "Joltin' Joe" DiMaggio had captured the imagination of an entire nation and become a potent symbol of American perseverance.
To commemorate the 70th year anniversary of this historic athletic achievement, JoeDimaggio.com is launching an online retrospective and commentary on the streak as it was unfolding in a series called "Reliving Joe DiMaggio's Streak." The series will include sports writer and celebrity guest posts and never-before released insights on the 56 games from Joe DiMaggio himself. Readers will also be invited to write their own reflections on DiMaggio, with the top two submissions being included as guest posts. The blog series will also be featured on BleacherReport.com, the web's leading publisher of original and entertaining sports editorial content.
Throughout the two-month celebration, fans will also find opportunities to join the conversation and win memorabilia on the official Joe DiMaggio Facebook fan page. Prizes will be announced on the anniversary of the end of the Streak—July 17, 2011—which has been declared Joe DiMaggio Day.
"In an era when America needed a hero, Joe DiMaggio inspired many through his graceful style and determination on and off the field," says Elizabeth Kanna, a managing partner in Joe DiMaggio, LLC. "This celebration of his legacy offers fans a chance to rekindle that excitement and sense of human possibility."
###
About Joe DiMaggio, LLC.
Joe DiMaggio, LLC, manages and licenses the Joe DiMaggio brand, which celebrates this quintessential American hero and athlete whose legendary hitting streak has gone unchallenged to this day.
Both on and off the diamond, Joe DiMaggio embodied the American spirit of integrity, perseverance and the ability to win while raising the game of those around him – all while demonstrating artless grace and era-defining style.
The re-casting of this rich legacy into a lifestyle brand rekindles the excitement and sense of human potential Joe inspired. Today, with gracefully dignified power in shorter supply than ever, Joe DiMaggio can inspire Americans to recognize and tap their own personal greatness.
FOR LICENSING INFORMATION CONTACT:
michelle@joedimaggio.com
m.alfandari@pixelelves.com/moda
212 687 7640 ext 214
www.pixelelves.com/moda
---